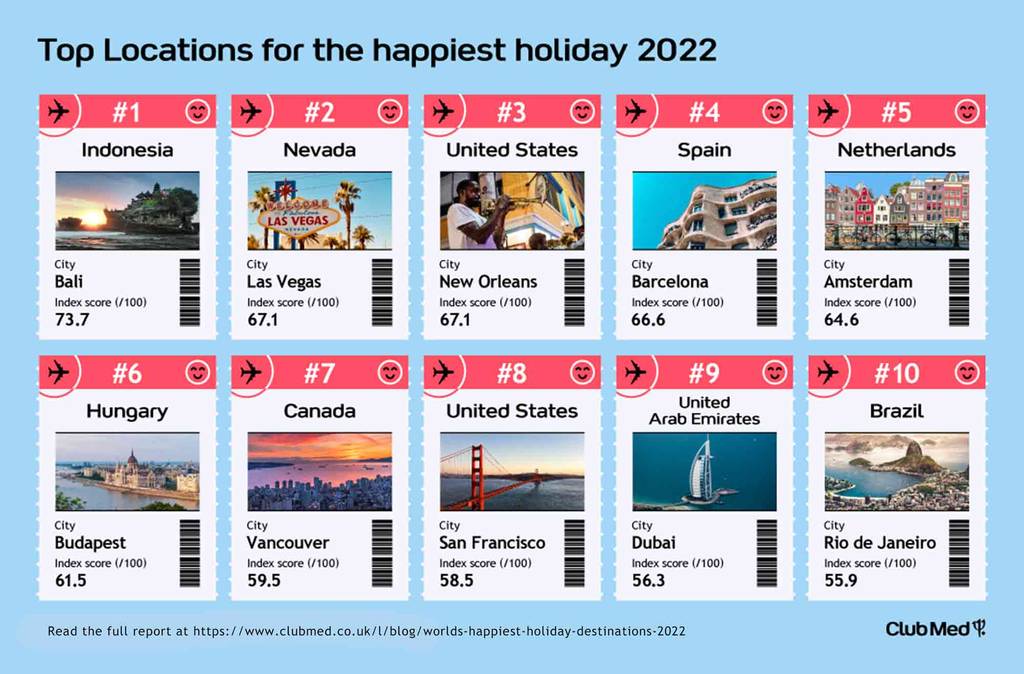 The world's happiest holiday destinations in 2022
We've revealed the world's happiest holiday destinations for 2022, and our research found that Bali, was the most popular destination for those in search of a happy, stress free getaway. Bali came out on top due to the incredible spa and wellness centres it has to offer and amazing outdoor activities – perfect for those looking for both relaxation and adventure on their holiday.
Following Bali; Las Vegas, New Orleans, Barcelona, and Amsterdam ranked as the top 5, with each offering a unique experience for tourists - making happiness a top priority. With over 40 outdoor activities, Las Vegas is the place to be if it's an adventure you're after. This city also has a high safety score so you can feel at ease while exploring all Las Vegas has to offer. New Orleans and Barcelona were great options for those in search of an LGBTQ+ friendly destination, both scoring the maximum LGBTQ+ rank - so you will be as happy as can be on your holiday!
When searching for the holiday destination that will make you the happiest, Europe is a great option, with 2 destinations ranking in the top 5. Amsterdam in particular had the highest safety score of our top 5 destinations, however, they did have the most expensive pint- so if it is Dutch courage you're after, this could cost you an average of £5.05 per draught.