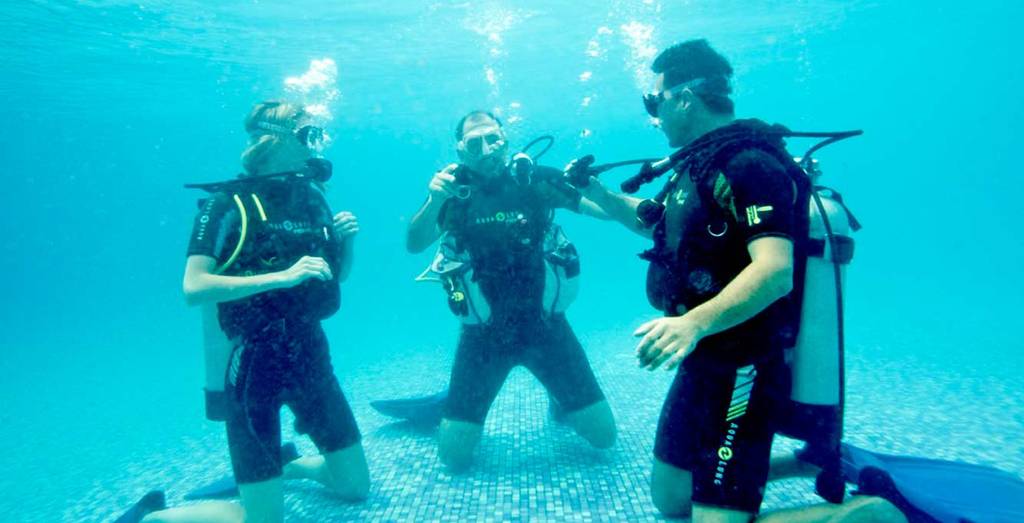 How to start scuba diving
PADI (the Professional Association of Diving Instructors) is the largest diving organisation in the world, and beginner courses are offered at beaches, pools, lakes and resorts all around the globe – so if you're interested in learning to dive there are plenty of easy ways to get started.
"The PADI entry-level course is called 'Open Water Diver', which takes about four to five days from start to finish," says Mark "Crowley" Russell, PADI Master Instructor and senior correspondent for DIVE Magazine.
There are three components: theory, shallow 'confined' water training [in a pool], and deeper 'open water' training. If you are going on a 1-2-week holiday, you might want to do the theory online before you go. The shallow water training could also be completed in a pool in the UK, although Crowley advises doing all the practical aspects of the course in the same place.
"This allows the student diver to build a better rapport with their instructor, who in turn is better placed to monitor the student's progress and deal with any problems as they arise," he explains.
Scuba diving holidays are a great way for beginners to immerse themselves in the sport whilst having a relaxing break at the same time. Although you can choose to visit a dedicated dive centre, Club Med offers beginner and advanced PADI diving courses (at extra cost) at 17 of its resorts around the world, in destinations including Greece, Thailand and the Maldives. Learning to scuba in a more relaxed environment might take the pressure off – especially if you are a little nervous – and you'll be assured of a good meal and a few drinks at the end of each day too!
If you're not sure whether you will like it, many PADI centres offer "taster dives" – so you can decide whether or not it's for you before you sign up for an entire course.