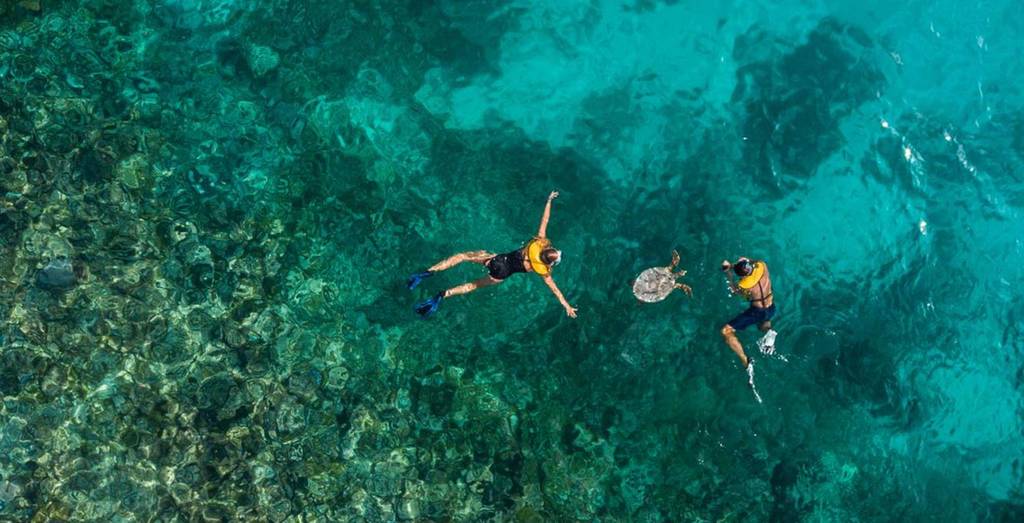 Do you love diving into the ocean and exploring an undersea kingdom of natural beauty? It is fair to say that the Maldives offers some of the best snorkelling in the world. In fact it could well be the best snorkelling and scuba diving experience of your life. The setting for this theatre of exploration is also remarkable with coral that provides a multicoloured, radiant backdrop for your swim.
The number and variety of fish (over 1,200 species) you could encounter on your dive is astonishing. As well as the enthralling but peaceful sharks and rays there is an abundance of colourful smaller species which brings a true 'Finding Nemo' vibe to your swim, including Dory herself in the shape of the Palette Surgeonfish. Sweep past barracudas, take an underwater snap of the snapper fish and see if you can give the Oriental Sweetlips a kiss on the mouth.
If you are lucky enough, you will also have a close up encounter with one of the local hawksbill and green turtles. These creatures are majestic on shore and in the water and there is no feeling in the world like taking a short swim with one.
Snorkelling can be as easy as stepping out of your Club Med overwater villa and straight into the sea. However, you will also find plenty of tours available to take you into deeper waters. You may also want to go further afield and explore some of the most famous areas of the Maldives such as Manta Point off Lankanfinolhu Island where, as the name suggests, a thriving colony of giant manta rays can be found. HP Reef on the Malé Atoll is also known as 'Rainbow Reef' for reasons you will discover if you visit there. The colours on display are simply breathtaking.