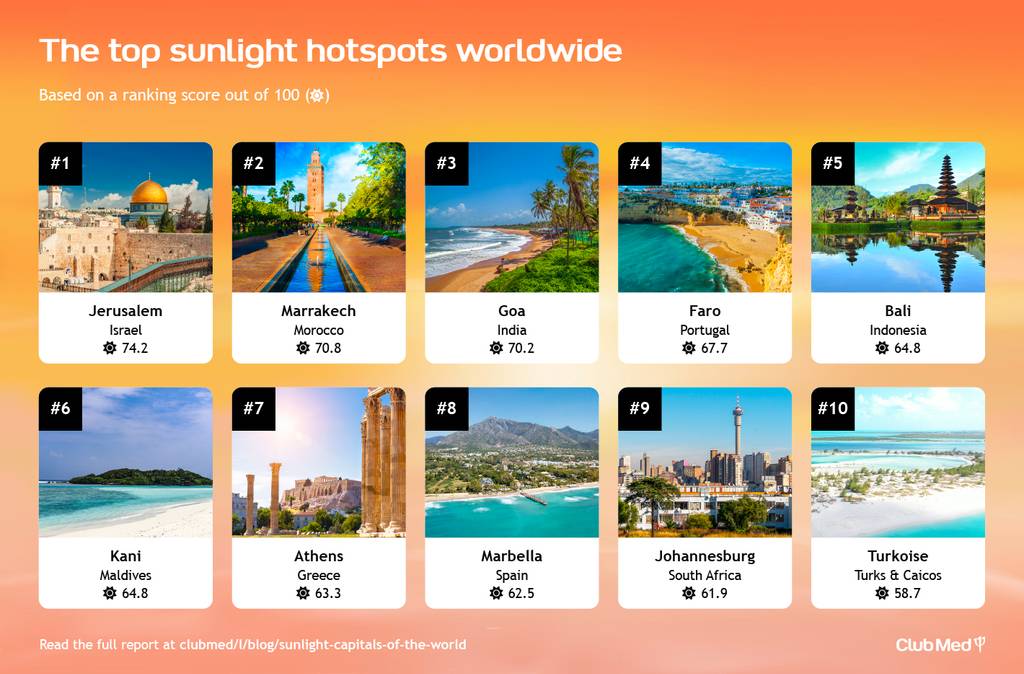 Our research found that Jerusalem in Israel is the best destination for sun, with Morocco, India, Portugal and Indonesia completing the top five.
Israel landed the top spot with an overall score of 74.2 out of 100, thanks to a high average temperature all year round. Temperatures are the highest here during autumn, averaging 24°C during summer months temperatures fall slightly to a still warm and enjoyable 20°C. Despite being slightly cooler during summer, this is when Israel is the driest, with an average of zero rainy days, in comparison to an average of four rainy days during the warmer autumn months. Summer is also when Israel has the most hours of daylight, with an incredible 12 hours to enjoy the sunshine on average each day, in comparison to the nine hours daily in autumn.
Marrakech in Morocco followed closely behind as the second best holiday destination for sun, with a score of 70.8 out of 100. On average, Marrakech sees the most sunlight hours during summer, when there are 11 hours of sunshine per day. The sea temperatures in Marrakech are the highest in summer too at an average of 21°C, so a trip to the beach is a must during a summer visit!
Rounding off the top three sunlight hotspots of the world is Goa in India with a score of 70.2 out of 100. Goa sees the most hours of sunlight during spring and winter, with an impressive average of nine hours per day during both seasons. The sea temperatures stay pretty constant throughout the year, averaging at 29°C through spring, summer and autumn and dropping slightly to 28°C during winter.