Babymoon Boom: The Top Babymoon Destinations in the World
BABYMOON BOOM: The Top Babymoon Destinations in the World
The honeymoon may be over, but there's still another milestone "moon" to look forward to as your family expands. A babymoon is a trip for expectant parents to enjoy some quality time together before welcoming their new arrival into the world. We've compiled the most popular babymoon destinations to help parents decide where the ideal holiday spot for them might be.
Babymooning has become increasingly popular in recent years as couples look to spend time together before their lives change forever. Italy, Portugal, Switzerland, and Paris trended upwards in 2022, topping the list as the most searched-for babymoon destinations, but some locations continue to rise to the top of the list year after year.
So, where do babymooners go? We've rounded up the most popular babymoon destinations based on traveller searches, to give parents a little inspiration when planning their own getaway.
Top Locations for Babymoon in 2022
We've revealed the top babymoon destinations for 2022, and our research found that the 'City of Light' - Paris, was the most popular destination for expectant parents in search of a romantic getaway before their baby arrives. Reasons given for Paris' popularity include its wide range of romantic activities and attractions, as well as its food and wine scene – perfect for babymooners looking to indulge before their new arrival.
London, New York City, Dubai, and Prague rounded out the top five most popular babymoon destinations, with each offering a unique experience for couples. London was praised for its baby-friendly attractions, while NYC was a hit for those looking to shop 'til they drop on their babymoon. For couples hoping to add a touch of luxury to their babymoon, Dubai and Prague were two of the top spots.
When it comes to babymooning, Europe is a clear favourite, with eight out of the top 10 babymoon destinations located on the continent. After that, it's Asia's turn in the babymoon spotlight with places like Bangkok, Marrakech, and Istanbul all making the list thanks to their exotic locations and abundance of things to do and eat.
Top European Destinations for Babymoons in 2022
When it comes to babymooning destinations, Europe has a wealth of beautiful locations to choose from. If you're planning a babymoon in 2022, consider one of these top European destinations: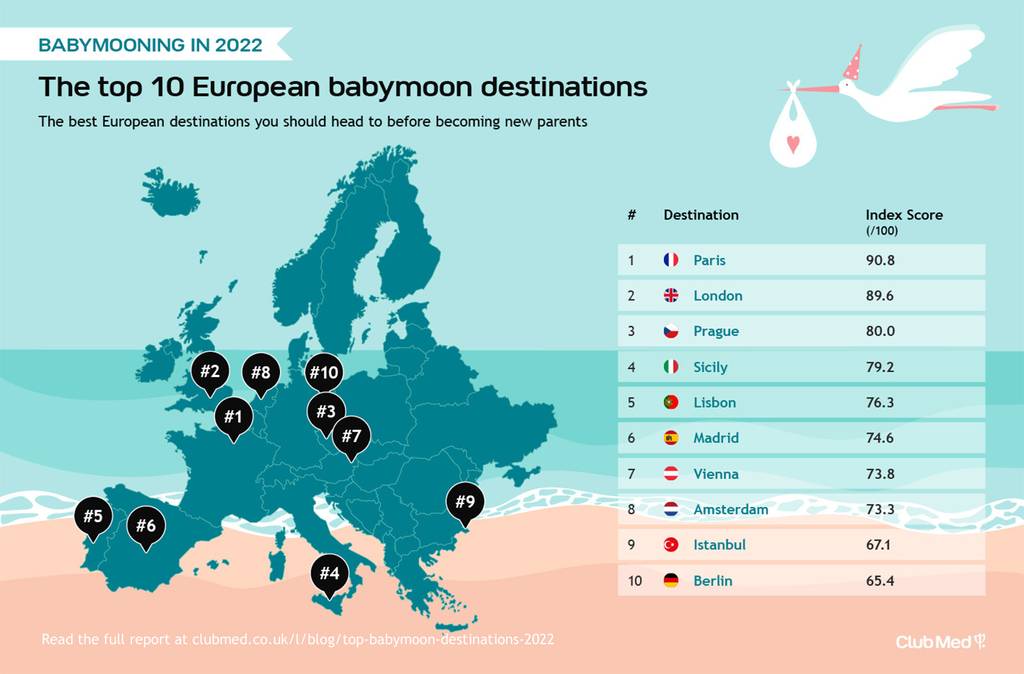 Between iconic cities and beautiful beaches, Europe has so much diversity to choose from to create the perfect babymoon. As well as London, Paris and Prague, Portugal and Spain have some incredible spots for babymoons with Lisbon and Madrid all showing up in the top European destinations. It seems for beach destinations Sicily and Crete come out on top, both beautiful destinations with so much to offer in the form of rest and relaxation, between picturesque villages and crystal clear waters, we can certainly understand why these destinations made the list.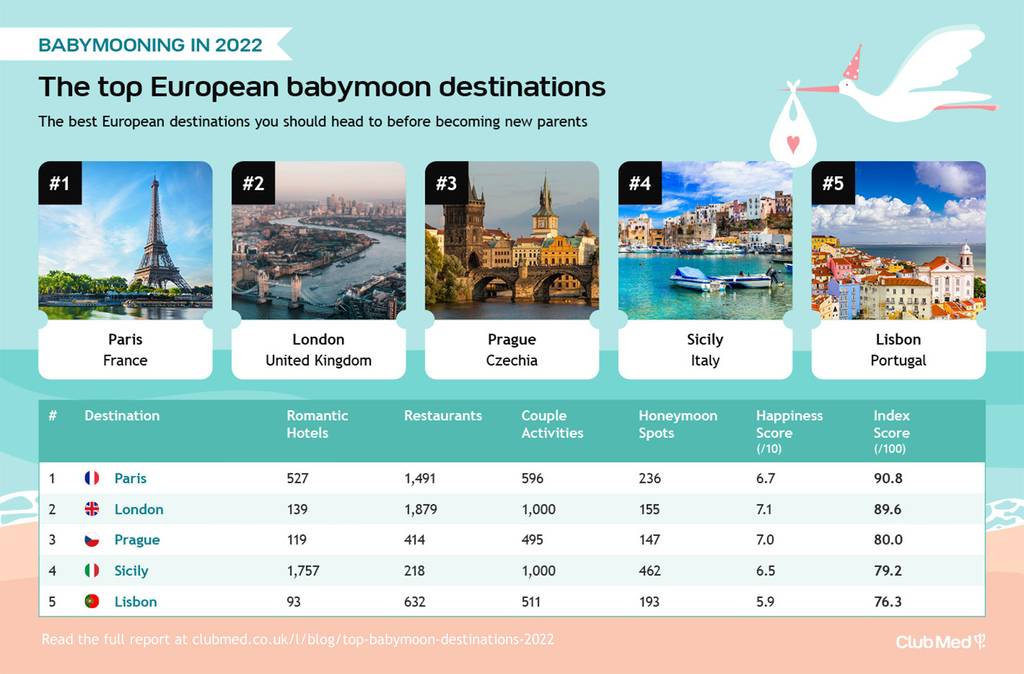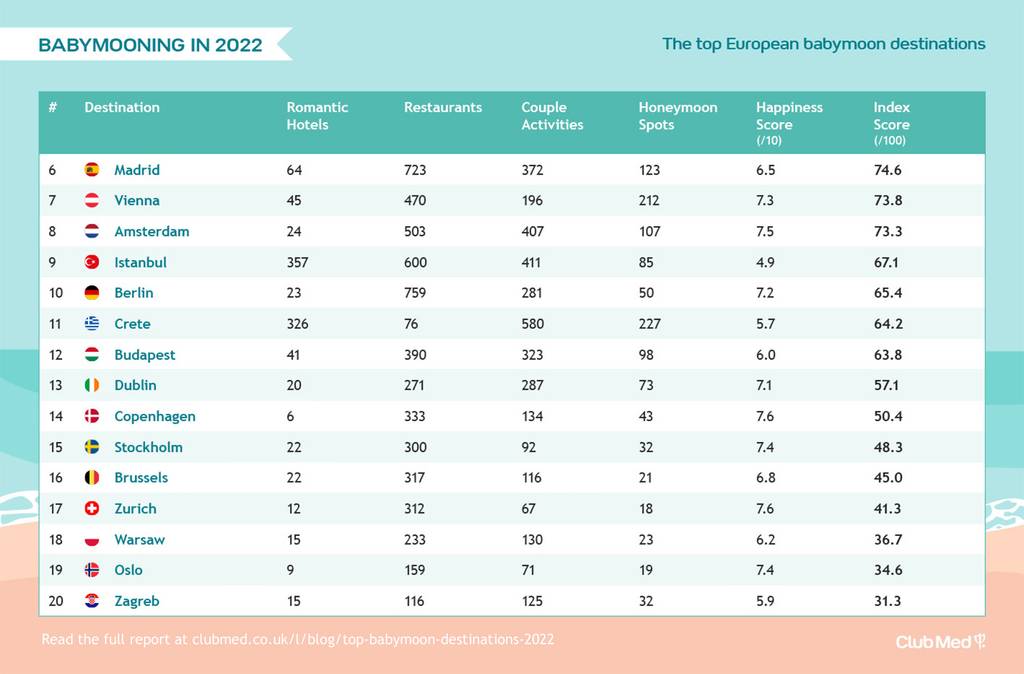 Top LGBTQIA+ Friendly Locations For Babymoons in 2022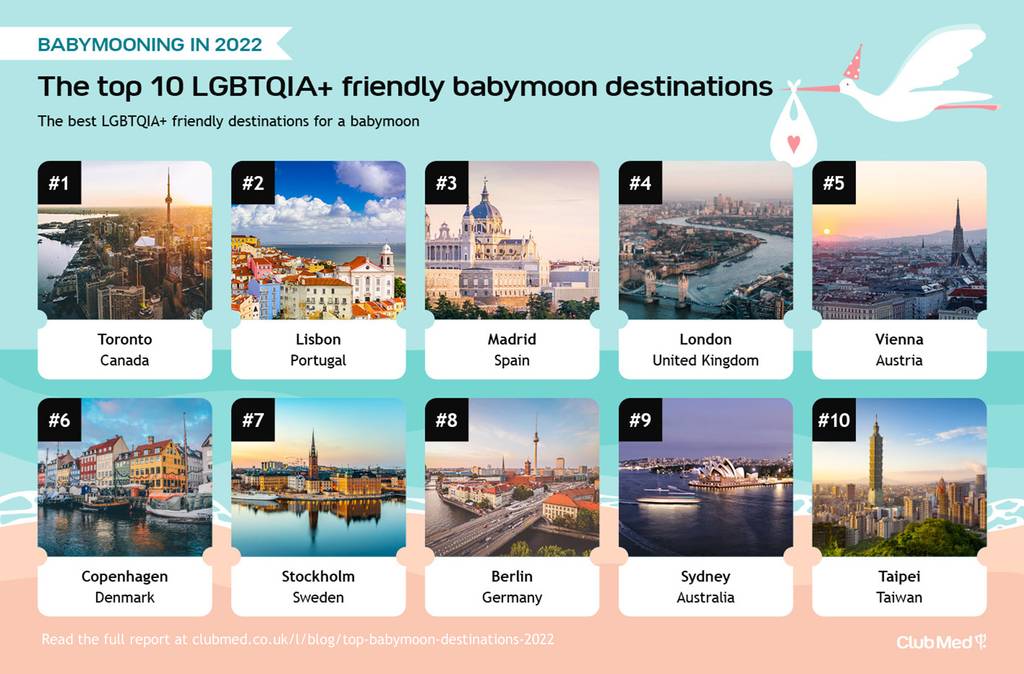 Not all babymoon locations are created equal. And when it comes to LGBTQIA+ families, some destinations are far more welcoming than others. Queer people embarking on any form of travel have an added layer of safety and comfortability to consider that many people don't need to think about. We felt it important to include the top queer-friendly destinations for babymoons. From our research we have established the safest destinations for queer travellers by reviewing the current legal environment and living conditions for members of the queer community in each respective country and then utilising various data points to provide us with key locations that offer a sense of community and safety for couples and families who often feel marginalised or unwelcome in other places.
Toronto came out on top as the best destination for queer families to babymoon. A progressive and welcoming city in Canada, Toronto has a thriving LGBTQIA+ community and offers plenty in the form of babymoon activities. In second place, Lisbon is listed as another great place for queer families to unwind before the arrival of a new addition in the family. Madrid, London and Vienna also place on this list as ideal spots for couples to enjoy time together with the safety of being in an inclusive environment.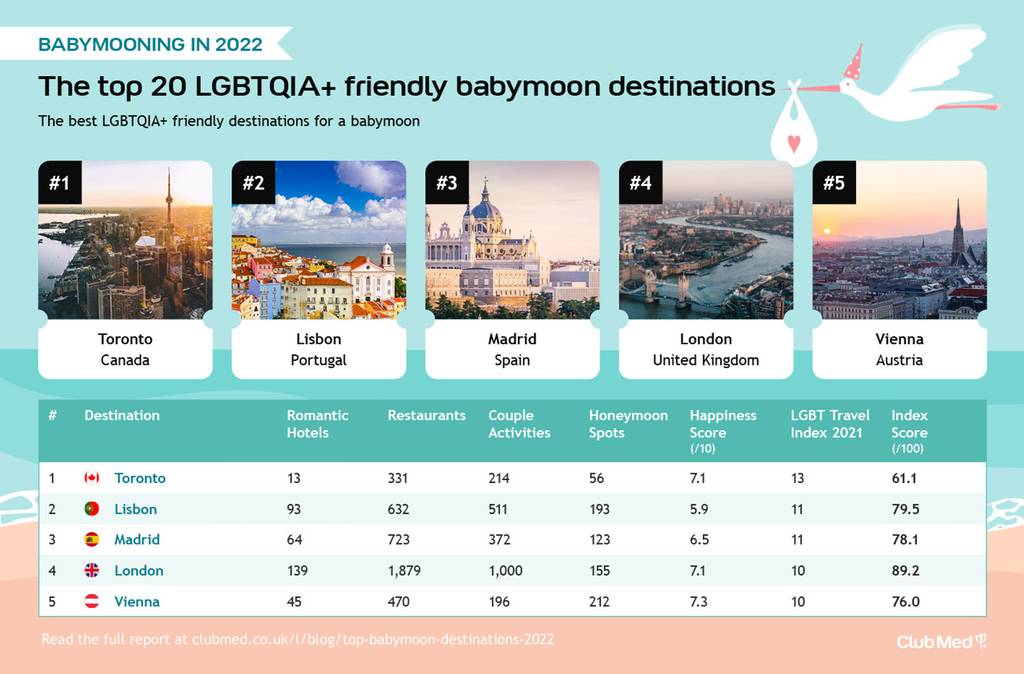 Trending Babymoons Locations 2022
Over the past few years, there has been a significant increase in the number of people searching for information about babymoon destinations. Couples are choosing to take babymoons as a way to relax and bond before their baby arrives.
As more and more couples look to take a relaxing vacation before the baby arrives, some destinations are becoming more popular than others.
Based on increased search traffic, the following babymoon destinations are the most popular and trending destinations in 2022: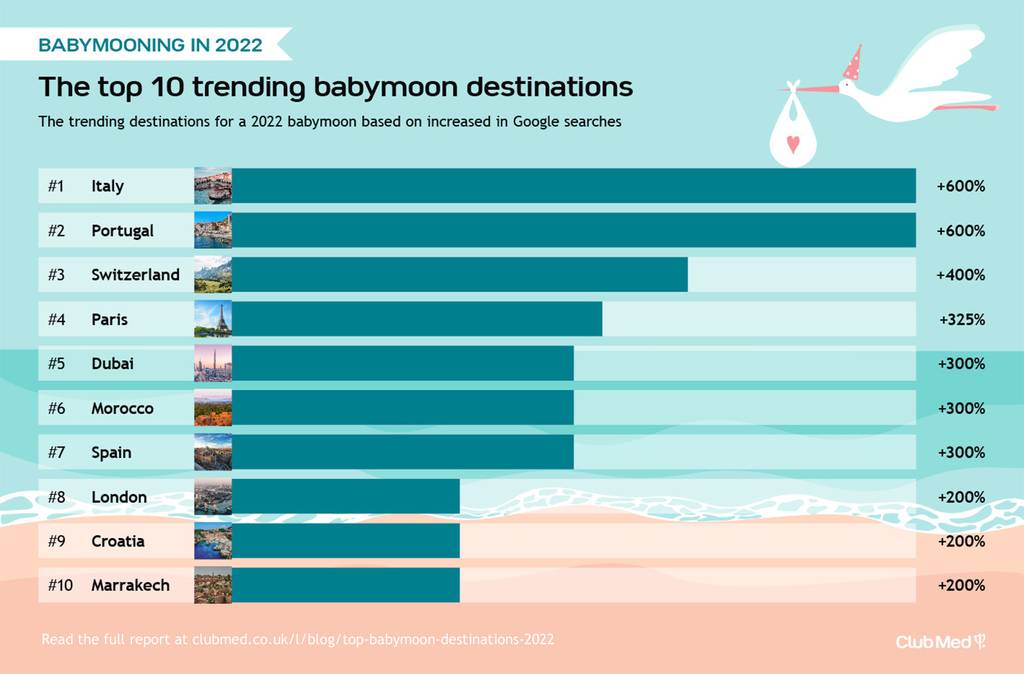 Searches for Babymoons in Italy have increased by 600% making it one of the most popular babymoon destinations this year and it's no wonder it has landed this spot. Between its stunning scenery, delicious food and rich history, it has so much to offer. Portugal also sits pretty at the top with a 600% increase in searches as well, as we watch these two destinations fight for the top spot this year - which would be at the top of your list?
It's clear from these trends that warmer destinations are peaking the interest of upcoming parents, with Dubai, Morocco, Spain, Croatia and Marrakech all spiking in searches and interest.
Our tips for a successful Babymoon
When it comes to babymooning, there are a few things to keep in mind to ensure you have a relaxing and enjoyable experience. Here are some tips to help make your babymoon perfect: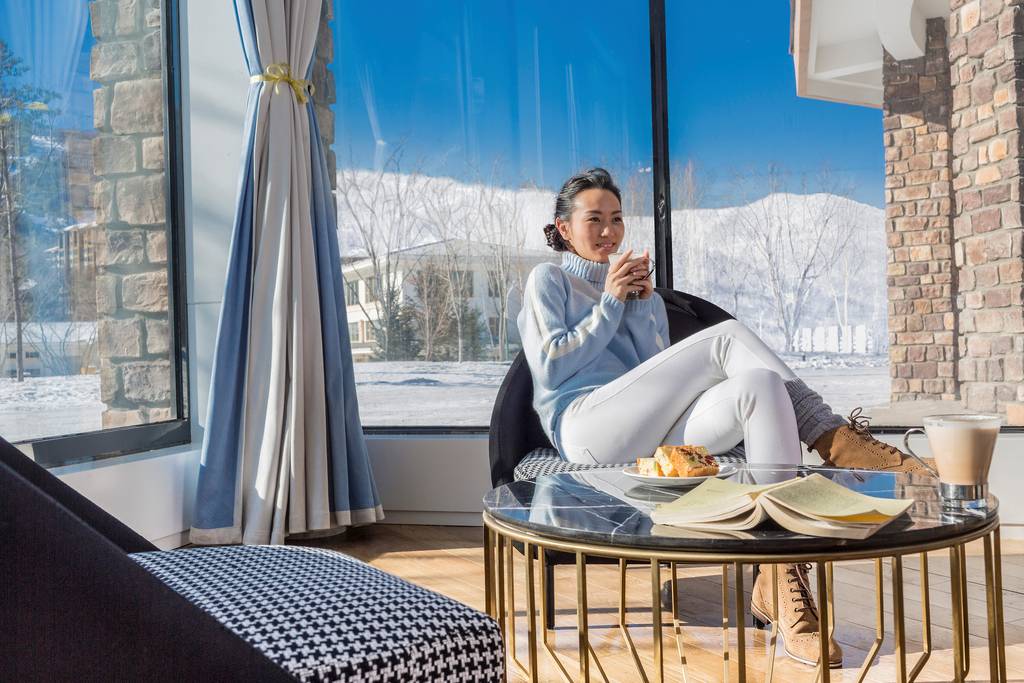 When should you take a babymoon?
The best time to take a babymoon is during the second trimester. This is typically when couples feel their best and have the most energy. In addition, doctors often restrict travel during the third trimester at around 36-weeks, so it's best to take your babymoon prior to that.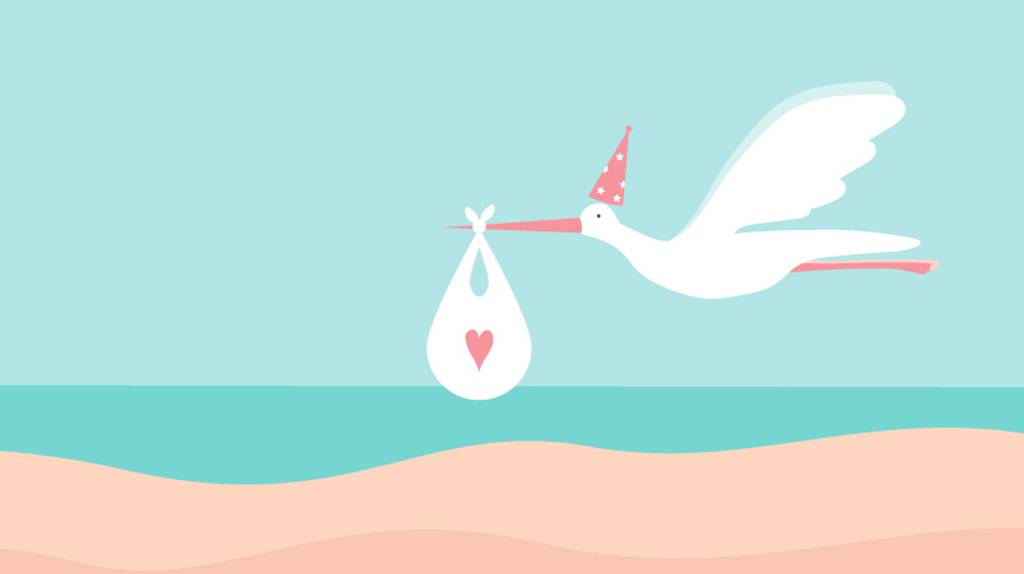 Whether you're joining the crowd in Paris - 2022's top babymoon destination - or venturing off to somewhere like Dubai, Morocco, or Taipei, babymooning is a great way to spend some quality time with your partner before the arrival of your new baby. Just remember to keep a few things in mind, such as when to travel and what to pack to make sure you have a relaxing and enjoyable experience.
With these tips and babymoon destination suggestions in mind, you're sure to have a babymoon that's both enjoyable and memorable. So, start planning your babymoon today and enjoy some quality time with your partner before the big day when your little one arrives.
Club Med is here to help make your babymoon dreams a reality, whether you're enjoying your second trimester or just taking a couple's holiday, our all-inclusive resorts offer the perfect backdrop for a relaxing babymoon.
We researched various data points to collate this information After compiling data on the top 50 most visited tourist destinations globally we then collected data on each destination by 6 metrics;
Number of romantic hotels in the city
Number of restaurants in the city
Couples activities in city
Honeymoon spots in the city
Country happiness score (out of 10)
Safe LGBTQ travel index (by Spartacus)
This is then wrapped with a final average score of each metric to determine the best destination to the least.