Take a moment to picture a luxurious vacation; possibly a spa comes to mind, or even a sun lounger with a piña colada? And while that does sound dreamy, chances are if you asked children to describe the same topic, they would paint a totally different picture! From trading in sun loungers for water slides and piña coladas for ice cream, kids would be looking for something slightly more adventurous!
Searches for 'child-friendly holidays' have proved popular this year, with many parents looking for resorts to please their little ones. So, while a spa day would be serene, ensuring that your holiday has plenty of activities for the whole family will make for a much less stressful vacation overall. At Club Med, we compiled a list of the most luxurious holiday destinations in the world for kids, so that you can start planning your next unforgettable adventure! There is nothing better than family time!
The most luxurious holiday destinations in the world for kids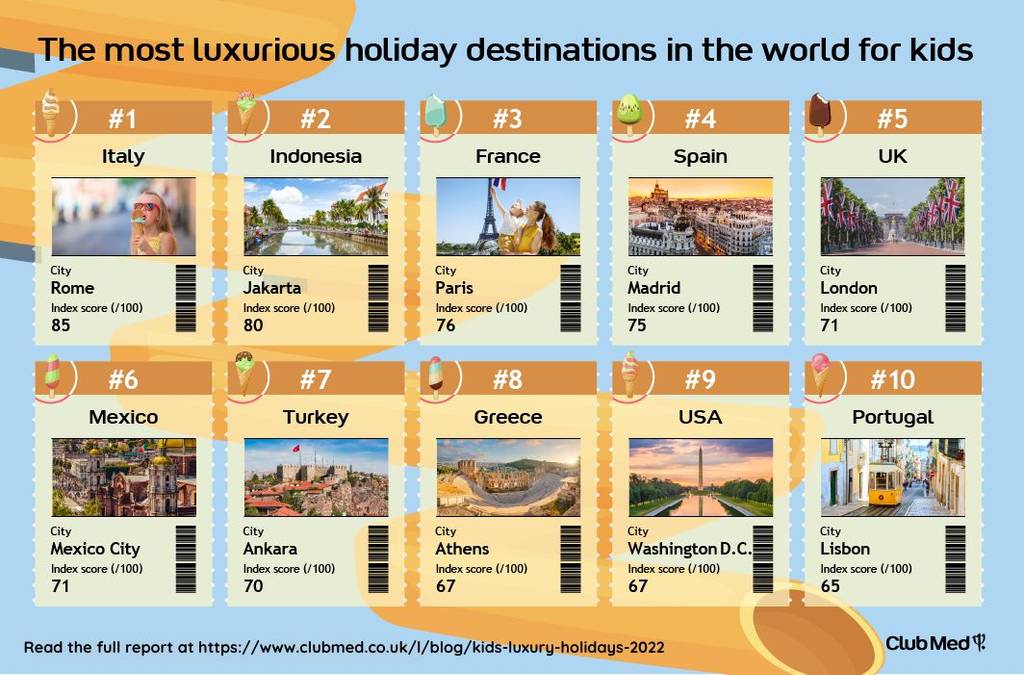 Our research found that Italy is the most luxurious destination in the world for kids! With an overall score of 85 out of 100 on our index, Italy would be the perfect location for your next adventure!
Italy came out on top due to the incredible 633 ice cream shops it has to offer, which is not only great for kids but any sweet toothed adults too! In addition, the country also topped other countries for the number of family-friendly hotels and ranked high for family-friendly eating as well.
Following Italy; Indonesia, France, Spain and the UK landed in the top 5, each offering uniquely fun activities for the luxury vacation of your little one's dreams! Indonesia came in second scoring 80 out of 100 on our index, thanks to their 426 "kids go free" hotels - allowing parents to feel more at ease, and with some extra cash in their pockets, when booking a holiday!
France followed in third place, as the perfect destination for kids hoping to make a splash! With 1,545 hotels with pools along with 516 water parks, France is perfect for any little mermaids looking for luxury, or just a paddle in the shallow end!
Proving to be a very popular holiday destination for kids, Spain is the fourth best destination, boasting 345 hotels with entertainment as well as a high number of family-friendly restaurants, leaving little opportunity for boredom whether your family is out on the town or in for the night!
The UK rounds off the top 5 luxury destinations for kids, with the highest number of family-friendly restaurants at 7,593 - great for any little foodies looking for a taste of luxury!
Top 10 European luxury holiday destinations for kids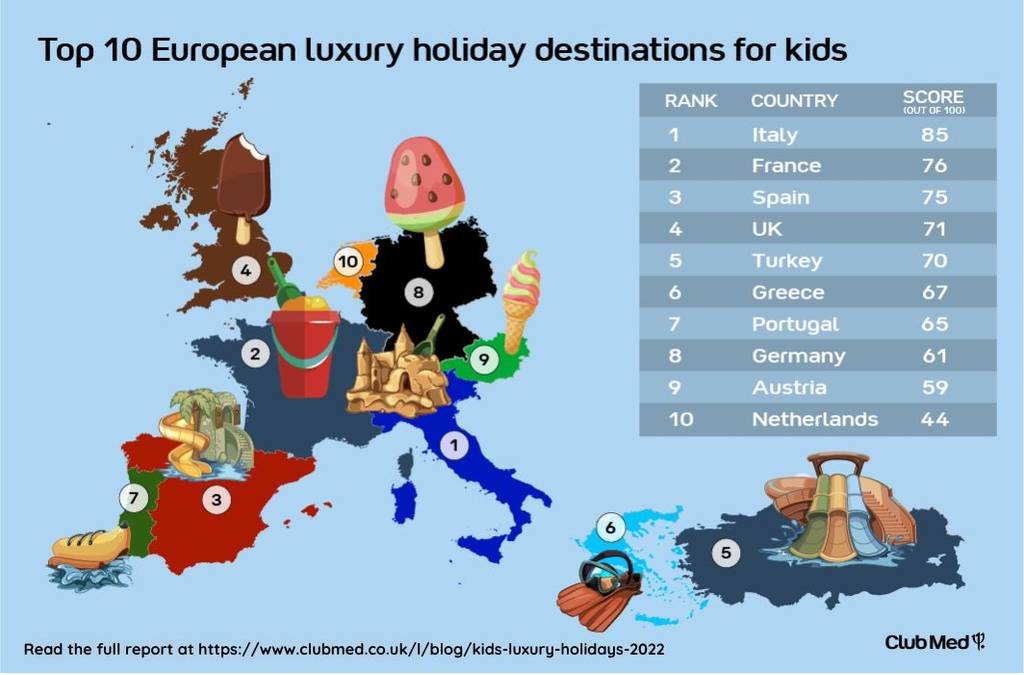 When it comes to a kids' idea of luxury, Europe is a clear favourite, so we have revealed the most luxurious European destinations for children!
For European vacations, Turkey slips into the Top 5 alongside worldwide favourites: Italy, France, Spain, and the UK. We've already discussed why the other four are go-to spots for families; however, when it comes to Turkey, the country is an all-around winner with 299 kids-go-free hotels - along with plenty of family-friendly eateries, hotels, and entertainment options. With so much to offer among our top 5 - from hotel amenities to countless ice cream parlours - your little ones will be set up for a luxury holiday of a lifetime at any of these destinations!
Other popular European locations also ranked in our top 10 luxurious holiday destinations for kids, so you have plenty of options to choose from! Greece ranked in sixth place with an overall kids luxury score of 67 out of 100, thanks to their 236 hotels with entertainment, so your children can stay entertained for the duration of your trip! Germany also ranked in the top 10, with over 100 ice cream shops and more than 100 adventure/water parks to explore, your kids will be spoilt for choice.
Rounding off the top 10 European countries for luxurious kid holidays, is another popular destination, Amsterdam - welcoming an average of 7,265,000 tourists per year! Amsterdam is perfect for any fussy eater, offering 1,759 family-friendly restaurants to choose between, and with over 1.5k family-friendly hotels to choose from, this holiday destination is perfect for adults as well.
Cities with the most ice cream shops
If there's ever a time for a sweet treat, a kids luxury holiday is one of them (what could be more luxury in the eyes of a child than an ice cream induced sugar rush?). So, we also found tourist cities with the most ice cream shops in the world, with Rome sitting comfortably in the top spot with 633 (nearly three times the second-place finisher)!
Rome is followed by London, Abu Dhabi, Jakarta and Tokyo.
London sits in second place with 215 ice cream shops, which is surprising considering the chilly weather does not often leave you longing to be cooled down!
Abu Dhabi follows next with 134 ice cream shops, Jakarta has 111 and Tokyo has 105. Each of these beautiful cities have so much to offer, as well as their abundance of ice cream, such as a range of water parks and other family-friendly activities!
The top 10 is complete with Berlin, Ankara, Madrid, Paris and Vienna, meaning that all three of the top luxury destinations for kids are also among the destinations with the most ice cream shops in the world, so your little ones can have an all round luxurious and sugary experience at these destinations!
Destinations with the most adventure/water parks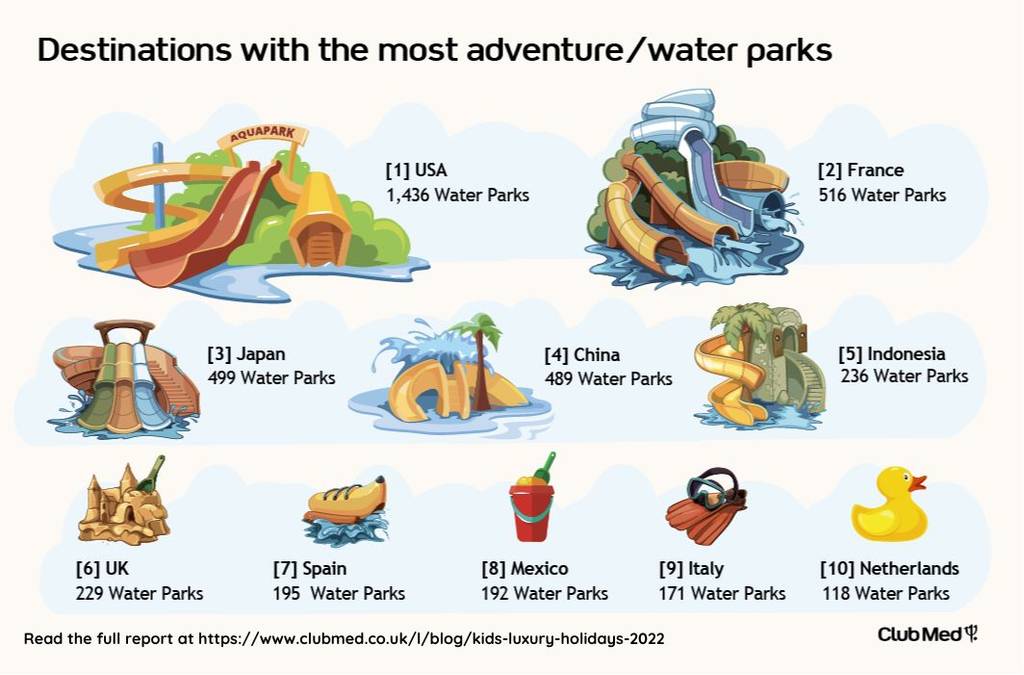 What could be more refreshing and fun than heading down to a water park on a hot day? Even though "lazy river" doesn't scream adventure, the endless amount of slides and pools to choose from definitely does! Kids love to make a splash and can gain a sense of achievement by pushing themselves out of their comfort zone - to try out the taller slides and face new challenges! If this sounds like your little one's idea of luxury, a trip to the USA is a must! This country has the most water parks in the world with a total of 1,436! With nearly 1,000 less water parks, France takes second place with 516 and Japan rounds off the top three with 499.
With an average of 51,128,000 tourists per year, Mexico ranked among the top 10 with 192 water parks waiting to be explored and the Netherlands rounds off the top 10 with 118 water parks! Both these holiday destinations prove to be a great choice to book when it comes to kids luxury!
Destinations where kids go free in hotels
Here at Club Med, not only do we want to find fun places for kids, but we also want parents to feel at ease when booking family holidays. With this in mind, we also collected data on which holiday destinations let kids stay for free in their hotels.
In the top spot is the USA with 434 hotels offering this service! Indonesia follows closely behind with 426 hotels where kids go free, as well as ranking second overall for the most luxurious holiday destination for kids, making this location even more of a gem! The UAE is in third place with 329 hotels to choose from, China came in fourth place with 301 and Turkey rounds off the top 5 with 299!
With all these hotels up for grabs where your little ones can stay for free, it means taking your kids on their dream vacation doesn't even have to break the bank!
Whether your children are after ice cream in Italy, which is also the most luxurious holiday destination for kids, or a trip to the USA for the most water parks and kids go free hotels, we know that your little ones will find a bit of luxury in this index which is perfect for them.
Club Med is here to help bring luxury to the whole family, no matter what their definition of "luxury" may be! Finding luxury suited for your children helps to create memories that'll last a lifetime, and whether you're after adventure or relaxation, our kids holiday deals offer fun for the whole family, ensuring everyone has an experience fit for their wildest dreams.
Methodology
To find out which holiday destination in the world is the most luxurious for kids we collected data on the top 30 most visited tourist destinations globally. Tripadvisor was scraped on 9 data points to find a total index score per population.
We collected data on each destination by these 7 metrics;
- Number of ice cream shops
- Number of family-friendly restaurants
- Number of hotels with entertainment
- Number of adventure/water parks
- Number of family-friendly hotels
- Number of places where kids go free
- Number of hotels with pools
This is then wrapped with a final average score of each metric to determine the most luxurious holiday destination for kids.