Ski Holiday Services for Children
For 40 years, Club Med has been running children's clubs for babies through to teenagers. In its Winter Ski Resorts, Club Med has adapted its children's club facilities so that they can discover the pleasures of winter sports and the joys of skiing.
We've done all in our power to ensure you have an unforgettable family holiday, with total happiness for children and peace of mind for parents .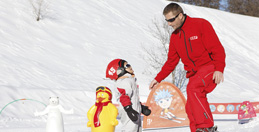 Introduce your children to the pleasures of skiing and snow: for the younger children, as a complement to Petit Club Med, this is a gentle introduction to the winter mountain universe.
* At extra cost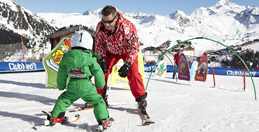 Skiing for little ones. From 4 to 5 years old, they learn to ski in a fun way, with specially devised circuits around fun figures and under hoops, and learn to use the "fil neige" ski lift. They can get their Ourson and Flocon badges.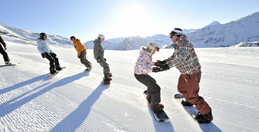 From 4 years old, in Club Med Resorts with clubs for children and/or teenagers, your children can do a full day's Alpine skiing class, for their level of skill. Youngsters with a taste for thrills can discover snowboarding, from 8 years old. Aerial acrobats can perfect their style and learn new tricks in the snowpark.
Whatever class they're in, your children get to take part in the European ski schools' award systems* (in France: Etoiles, Chamois, Flèche,...)
* At extra cost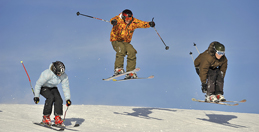 Youngsters will love their mountain holiday! Specially devised for 11 to 17 year olds, the "Special Teenagers Ski Programme" gives them the chance to try all the techniques of Alpine skiing: free style (snowpark), skiing on the edge of the piste and through the forest, slalom, skicross and skijumping.

A pioneer in taking care of children's needs, there are Club Med children's clubs for all age groups from 4 to 17: Baby Club Med*, Petit Club Med*, Mini Club Med, Junior's Club Med or Club Med Passworld®, depending on the Resort.
Trust Club Med's experience to ensure you and your children of unique moments together in a spirit of confidence and serenity.
* At extra cost
SEARCH FOR A RESORT
SEARCH BY SINGLE CRITERIA
By destination

By children's club

By available dates

By activities

By comfort level

By price bracket